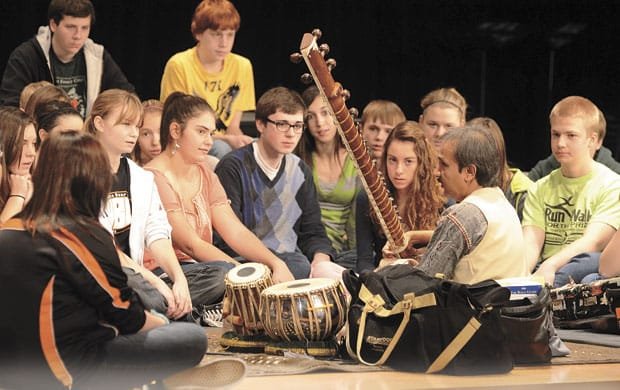 Give Your Students An Education That They'll Never Forget!
Learning cultural music has a huge impact on students socially & reinforces the universal fundamentals of what you're already teaching!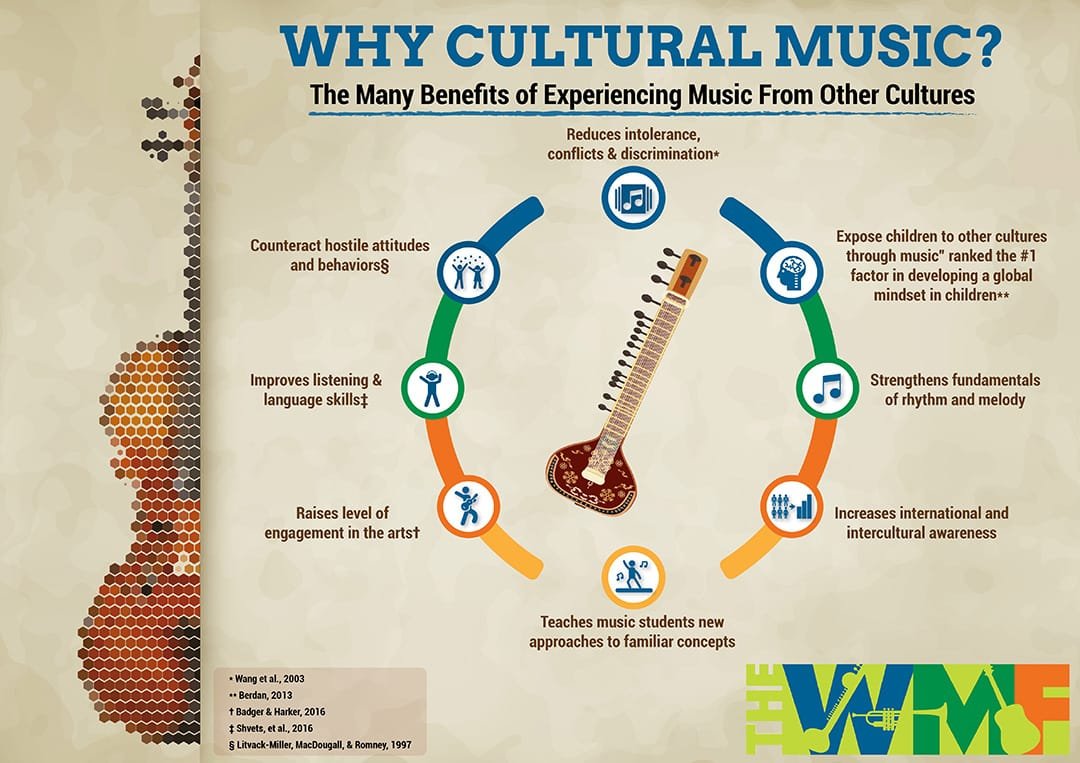 Beyond The Music
This infographic describes the benefits to students, even beyond the musical aspects, such as increased racial tolerance, cultural empathy, etc.
Research overwhelmingly shows that when done in a meaningful way, even a one-time exposure to music of a different culture can have a life-long impact.
About the Artist

Pandit Sandip Burman
a native of Durgapur, India, is an internationally touring tabla and sitar musician. In addition to his countless accomplishments as an Indian Classical musician, he also formed the band East Meets Jazz which included Jazz legends such as Jack DeJohnette, Jerry Goodman, Randy Brecker, Howard Levy, Paul McCandless, Steve Smith, Dave Pietro and Paul Bollenback. Additionally he has performed on several GRAMMY albums, as well as composed Western Classically for places such as the Nashville Symphony and the St. Louis Chamber Ensemble.
I definitely made me want to experience different cultures and music from other countries.
"I wasn't prepared for this to be so spectacular," said senior flutist Juileann Stewart. "He really showed us that music is more than just notes."
It was really cool to see this. I'd never heard Indian music before …Your eyes aren't as open to the world unless you have opportunities to see these things and change your world view.
"It's the first time I've ever been introduced to a different culture of music," said tenor saxophone player James Fahlgren. "I was watching the way he uses the tip and back of his tongue – I can try that with my reed.
"Even though the look of his instruments were different, the sound of the instruments were different, what he was teaching us today was, it's basically the same," he said. "The fundamentals that he has learned translate to fundamentals that we have learned."
About The Event:
About the event itself, a lecture/demonstration runs about an hour or so and gives a full perspective on Indian Classical music. It will feature a general discussion of the music system from India (Raga and Tala) and how that compares to the Western system. The performance is very interactive and allows for the audience of up to 50 students to participate with and get to know Indian music in a short time.
Sitar & Tabla
The tabla is usually played as a rhythm instrument (Tala), which will be played with a complex rhythm cycle, like 5 and 1/4, 8 and 1/2, 7 and 3/4, etc. Sandip-ji will also play the sitar, which is a 20-stringed melody (Raga) instrument. Additionally Sandip Burman is able to play the tabla tarang, which consists of 12 drums tuned to a melodic scale (Raga). At this time Sandip-ji is the only touring tabla tarang player in the entire world.
For more information, simply "google" Sandip Burman and a multitude of concert reviews, newspaper articles and pictures will pop up.